Salinity Refractometer (Automatic Temperature Compensation & Water Resistant) MASTER-S/Millα
| | |
| --- | --- |
| | Compact and easy to carry |
| | |
| | Automatic Temperature Compensation |
This instrument measures the salinity and specific gravity of seawater, and utilizes a new material that is durable against salty samples, The salinity of seawater is displayed in parts per mill (‰). It is an Automatic Temperature Compensation (ATC) model with water resistant properties (IP65).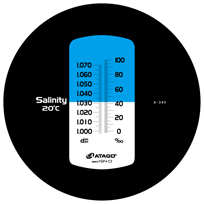 Specifications
Model

MASTER-S/Millα

Cat.No.

2491

Scale

Salinity
Specific gravity

Measurement Range

Salinity : 0 to 100‰
Specific gravity : 1.000 to 1.070
(Automatic Temperature Compensation)

Minimum Scale

Salinity : 1‰
Specific gravity : 0.001

Measurement Accuracy

Salinity : ±2‰
Specific gravity : ±0.001
(10 to 30

゚

C)

Repeatability

Salinity : ±1‰
Specific gravity : ±0.0005

International Protection Class

IP65 (except eye piece)
Dust-tight and Protected against water jets.

Dimensions & Weight

3.2 x 3.4 x 20.7cm, 110g
Parts
Milky White Daylight Plate : RE-2471-65M
Product Q&A
Catalog Download (1.90MB)
---
Atago Hand-Held Refractometers MASTER Series

This new type of Hand-held Refractometer MASTER functions such as Easy-to-Read, Easy-to-Hold, Smooth sampling, Easy disposal of sample from the edge, the improvement of hygiene aspect by employing the new type of grip, and well-balanced structure, emphasis is also placed on its design, well exemplified by the streamlined body and the strong grip with rich texture.


Features


Protection class of the MASTER-α, H series are IP65. You can rinse off the sample by running water on the prism. The design allows the user to easily wipe off the sample.


Sample size 2-3drops.

The Automatic Temperature Compensation function of the MASTER-α, T, H series enables you to take measurement readings regardless of the ambient temperature.

Automatic Sample Distribution (ASD)
New prism housing design allows for sample to cover the prism without having to lift the day-light plate! This design will allow forfast & easy measurements.

Convenient Storage case.

The MASTER series has been improved with a clearer, brighter field of view and made even easier to carry.

Compact Redesign of the MASTER Series (from October 2014)

The MASTER series has been improved with a clearer, brighter field of view and made even easier to carry.

These improvements in our newly compact redesigned models are especially clear when taking measurements in dim lighting, or measuring darkly-colored samples. Even when measuring milky-colored, opaque, or oily samples, the boundary line remains crisp and clear.
Note: The size of the scale has changed. It may take some time to re-adjust to the new field of view when reading measurements.